Catering
Let us do the cooking. You get the credit! Great for home parties and office events.
Food can be delivered to you or picked up from our stores. Use our App or Web ordering and it's the same as ordering at our store (no extra fees or charges when you order from us directly). If you are ordering for groups under 12 people you may want to look at the Family Meal Packs. If you are ordering for larger groups here is what we suggest; calculate one skewer for each person and 1.5 skewers for either the beef koubideh (ground sirloin) or chicken koubideh (ground chicken).

The rice and pita bread included in any of our 10 skewer catering packs are enough for 10 adults. If you want any appetizers or sides like shirazi or our amazing hummus you can add the catering size which is great for 8-10 people.
PickUp/Delivery
FAMILY MEAL PACKS
Served with Rice, Pita Bread, Shirazi Salad, Hummus, Taboule, Grilled Tomatoes and Peppers (Serves 4-5)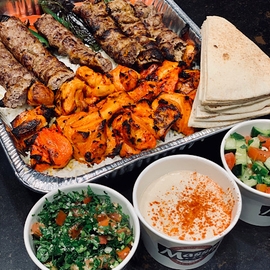 #23 Family Meal Pack
Three Chicken Kabobs Skewers, Three Beef Khoubideh Skewers, Rice, Pita Bread, Shirazi Salad, Hummus, Taboule - feeds 4-5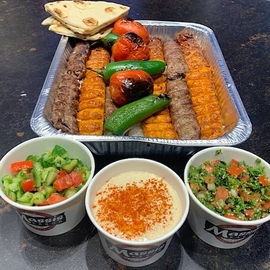 #24 Family Meal Pack
Three Chicken Koubideh Kabob Skewers, Three Beef Koubideh Skewers, Rice, Pita Bread, Shirazi Salad, Hummus, Taboule - feeds 4-5
Party & Catering Menu
Let us do the cooking - save time and money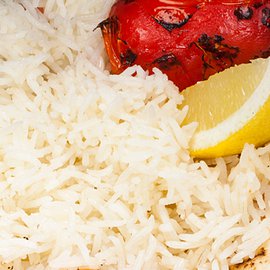 PERSIAN BASMATI RICE

$19.95
serves 8-10 people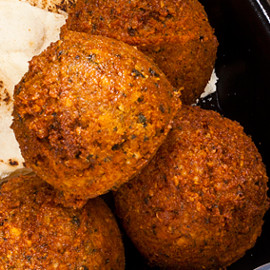 FALAFEL BALLS
(20 individual pieces)
$19.95
serves 8-10 people